The Football Coaching Life Podcasts and Videos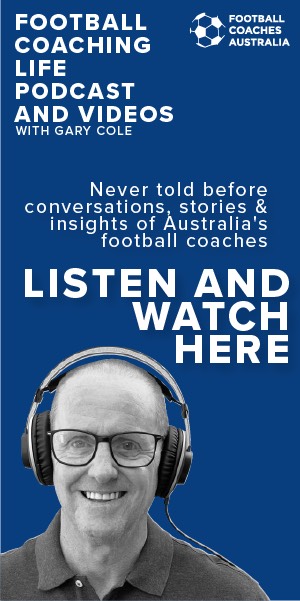 About the host
FCA Executive Committee member Gary Cole began the journey of digging down into the coaching journeys of the men and women who help grow and develop our players and teams. Supported by Ralph Barba at Making Media, FCA launched the 'The Football Coaching Life' podcast.
FCA ExCO member Gary Cole is a former Socceroo, a Heidelberg United FC great, and a football leader with a diverse background and extensive leadership experience in football at Melbourne Victory FC, Sydney FC and Football Victoria.
His leadership experience includes specialised strategic development and implementation, project management, marketing and operations in complex organisations.
Gary has a proven track record in football and other sporting organisations (Belgravia Leisure, Sport Australia and Football Victoria) delivering success through good governance; delivery of organisational processes and building high performance individuals and teams.
He also coached at the AIS with Dr Ron Smith, was Assistant Socceroos Coach to Frank Arok, and also coached with success in the National Soccer League and the Victorian Premier League.
He was recently inducted into the Football Victoria Hall of Fame to go along with his inclusion into the Football Australia Hall of Fame.
Gary hosts 'The Football Coaching Life' program on behalf of Football Coaches Australia.