The football coaching life podcast – with gary cole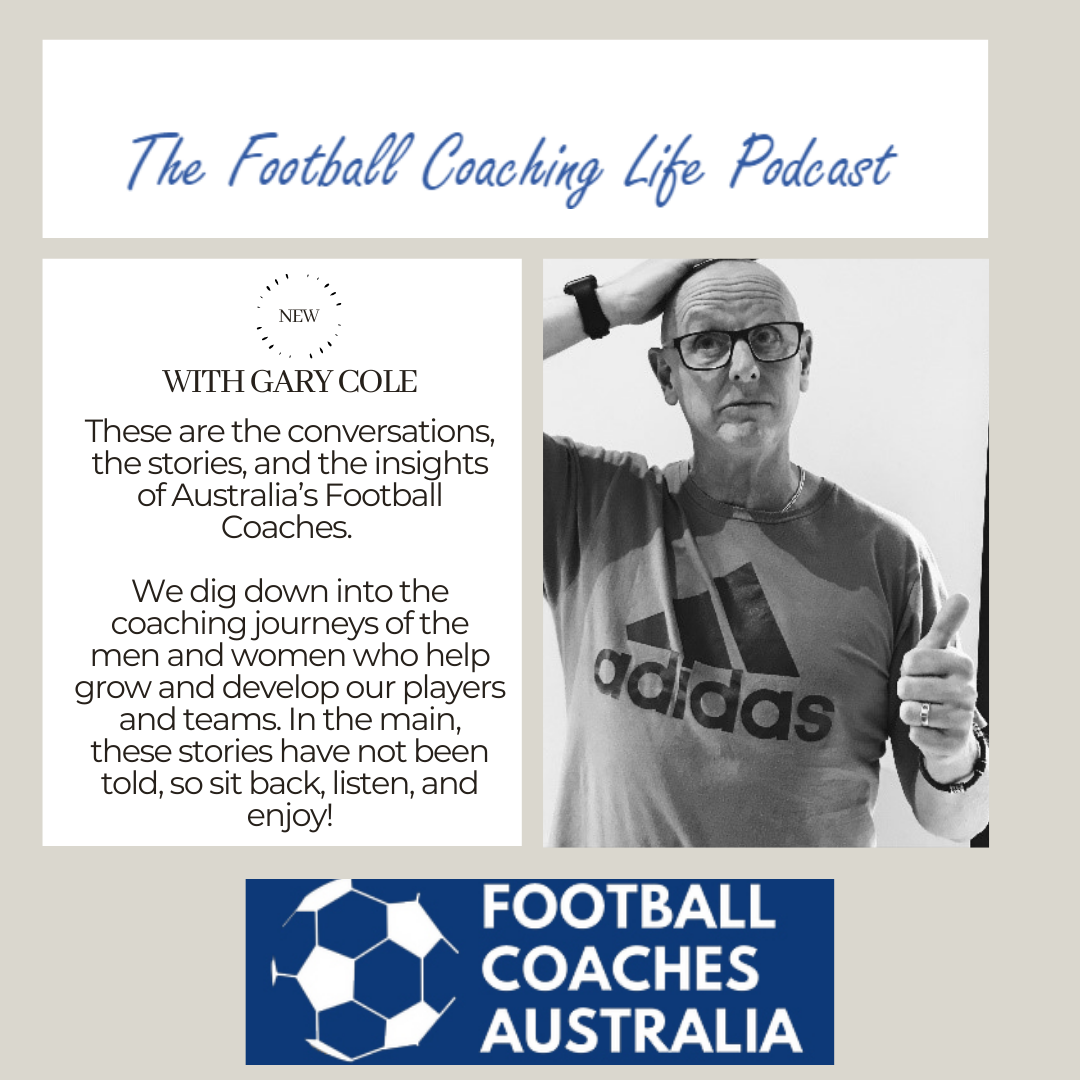 About the host
Gary Cole is a former Socceroo, a Heidelberg United FC great, and a football leader with a diverse background and extensive leadership experience in football at Melbourne Victory, Sydney FC and Football Victoria. He coached at the AIS with Dr Ron Smith, was Assistant Socceroos Coach to Frank Arok, and also coached with success in the National Soccer League and the Victorian Premier League. Gary also serves on the Executive Committee of Football Coaches Australia – the official association of Australian football coaches.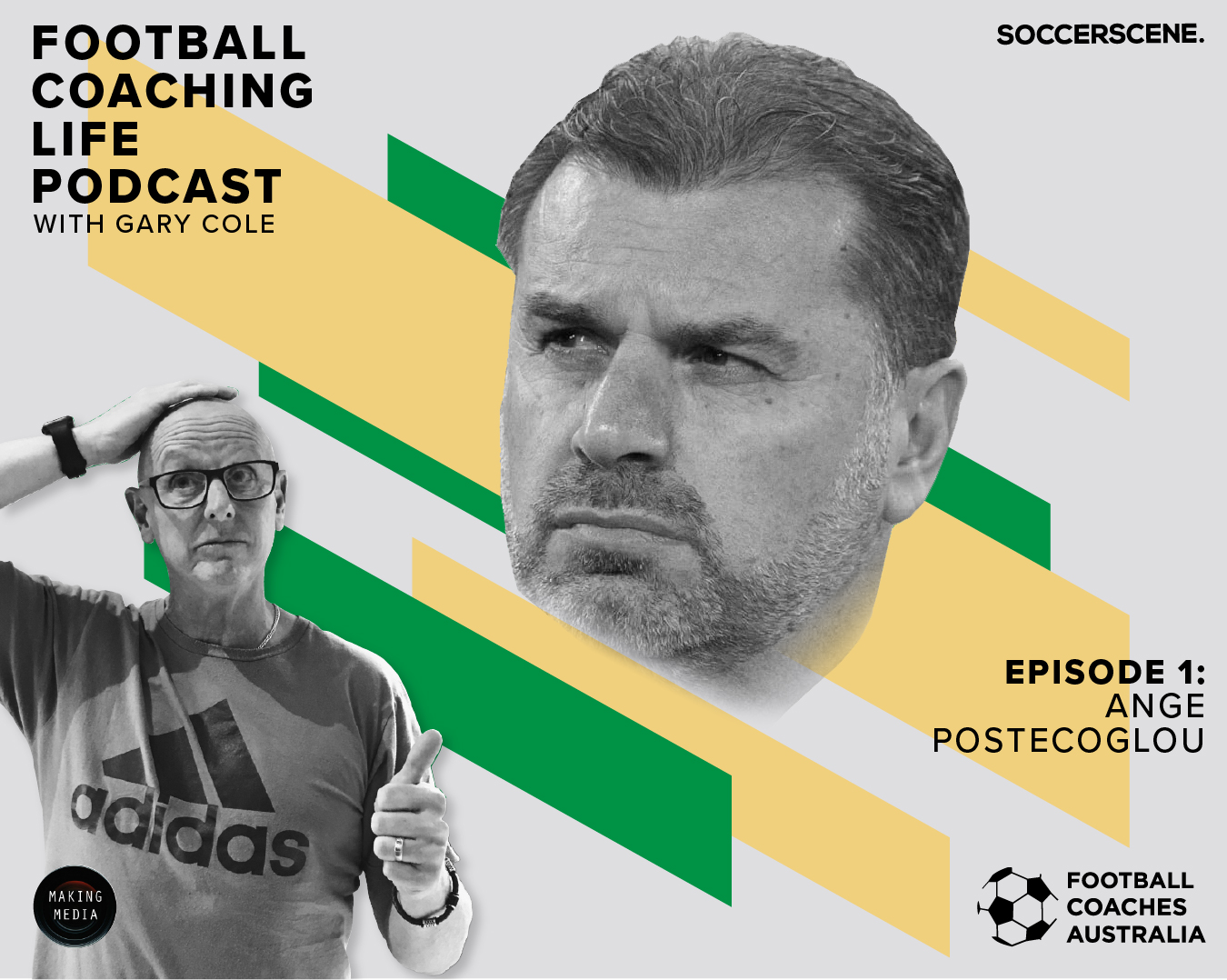 EPISODE 1: ANGE POSTECOGLOU
In this episode, Former Socceroo Gary Cole speaks with Ange Postecoglou, who is arguably Australia's most successful football coach.
From his playing days with South Melbourne in the 1980s to coaching the Socceroos to victory in the 2015 Asian Cup, Ange Postecoglou's uncompromising commitment to success has made a big impact on the Australian football landscape.
He won the old National Soccer League as a player and a coach, back-to-back A-League titles, and led the Brisbane Roar to the longest unbeaten run in any code with a 36-match winning streak.
As Head Coach, Ange took the Australian men's national team The Socceroos to the 2014 FIFA World Cup, and coached them to the winner's podium at the 2014 Asian Cup, departing the role before the team travelled to Russia for the 2018 FIFA World Cup.
He then moved to Japan where in 2019, as Head Coach of the Yokohama F Marinos, Postecoglou became the first Australian Coach to win a J-League title.
"Find the core of why you want to coach, you've got to find out why you want to coach. What is it at the core of why you want to do this? Because as we've already said, it's not going to be a happy carefree existence." – Ange Postecoglou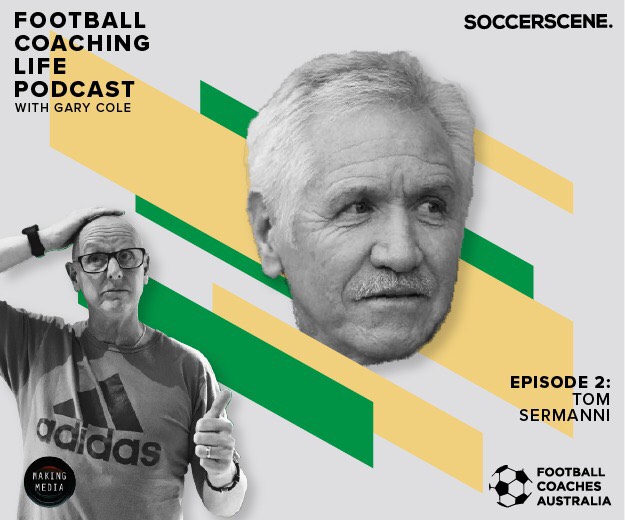 EPISODE 2: TOM SERMANNI
In this episode, former Socceroo Gary Cole speaks with Tom Sermanni.
Sermanni's success speaks for itself. He has been to five FIFA Women's World Cups: three with the Matildas (1995, 2007 and 2011), one with Canada as an assistant coach (2015) and the fifth with New Zealand in France (2019). He has won the Algarve Cup (2013) with the USA, the Asian Cup with the Matildas (2010), he was also named AFC Coach of the Year (2007). He now has his sights set on taking New Zealand's Football Ferns to the delayed 2020 Olympic Games.
Tom has a Pro Licence and a Diploma in Education. He has coached at the Australian Institute of Sport (AIS), in the now defunct Australian National Soccer League, and in the J-League with Sanfrecce.
Along this incredible journey, Tom has coached players of all ages and genders, and it would be fair to say they have all left his tutelage a little wiser than when they started.
He is a warm, kind, and compassionate coach which comes out in this candid conversation with Gary.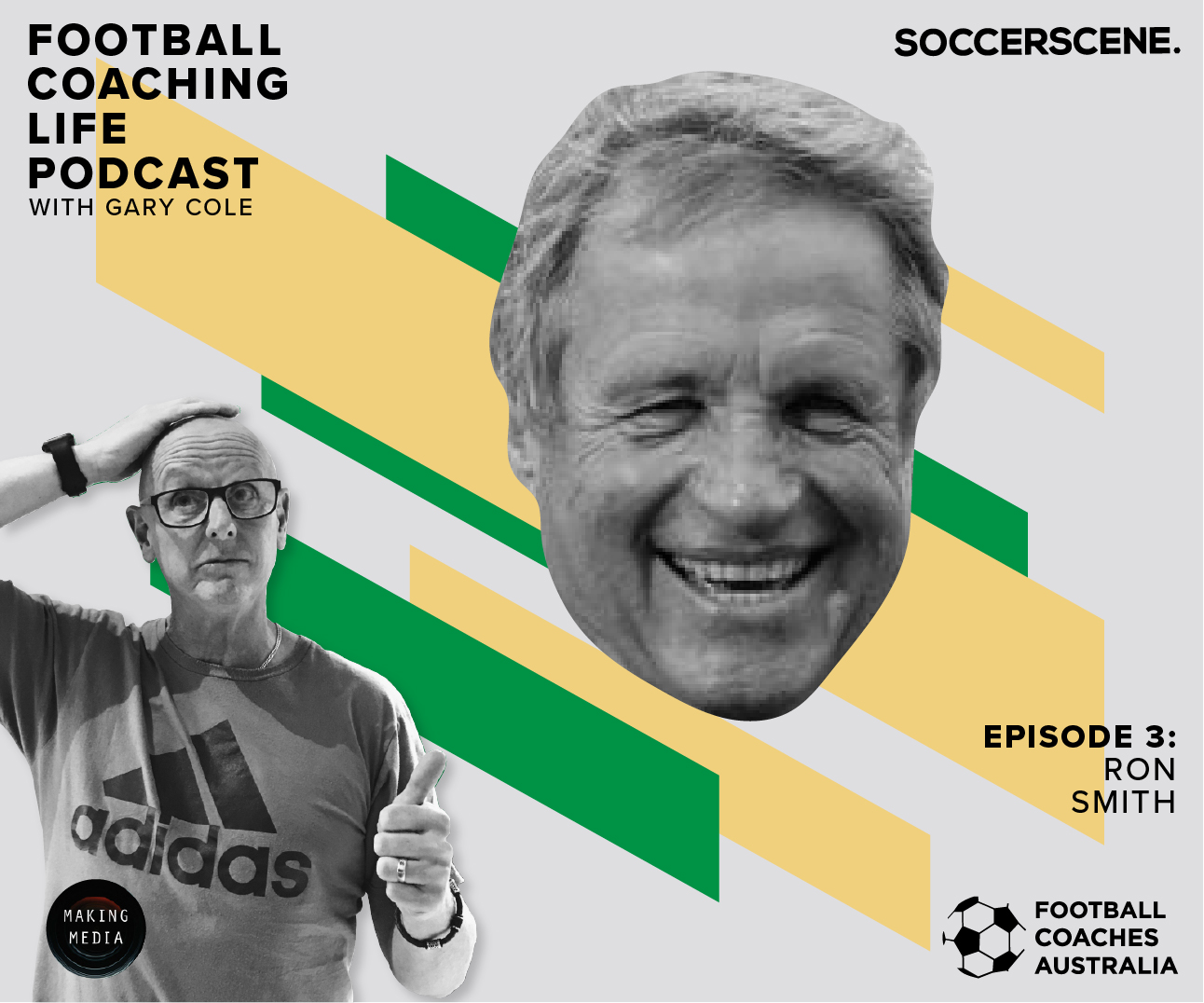 EPISODE 3: RON SMITH
Dr. Ron Smith (Smudger to his friends) is well known in Australian Football circles. Often referred to as a 'Coaching Guru' and developer of many of Australia's 'Golden Generation'.
Prior to coming to Australia, Ron played at junior level at his beloved North London Tottenham Hotspurs before 'dickie knees' impacted his professional ambitions.
He has coached in Iceland and Malaysia as well as in Australia's A-League with Perth Glory. Ron has assisted many of our National Team coaches as an analyst, attending both World and Asian Cups as well as part of Football Australia's Technical Department on a couple of occasions.
Perhaps most well remembered as the hugely successful Coach at the Australian Institute of Sport in Canberra, where many wonderful players like Viduka, Aloisi, Bresciano, Moore, Neil, Skoko, Grella, Simunic and Zelic, to name a few, came through.
Smudger has been arguably our greatest student of the game, analysing thousands of EPL and International Men's and Women's World Cup games and sharing his knowledge and wisdom about the behaviours of the Worlds best. Perhaps his favourite topic is 'How goals are scored'.
Ron received his PhD on 'Goal scoring patterns in professional football' from the University of Canberra in 2016
Join Gary Cole as he explores the Football Coaching Life of Dr Ron Smith.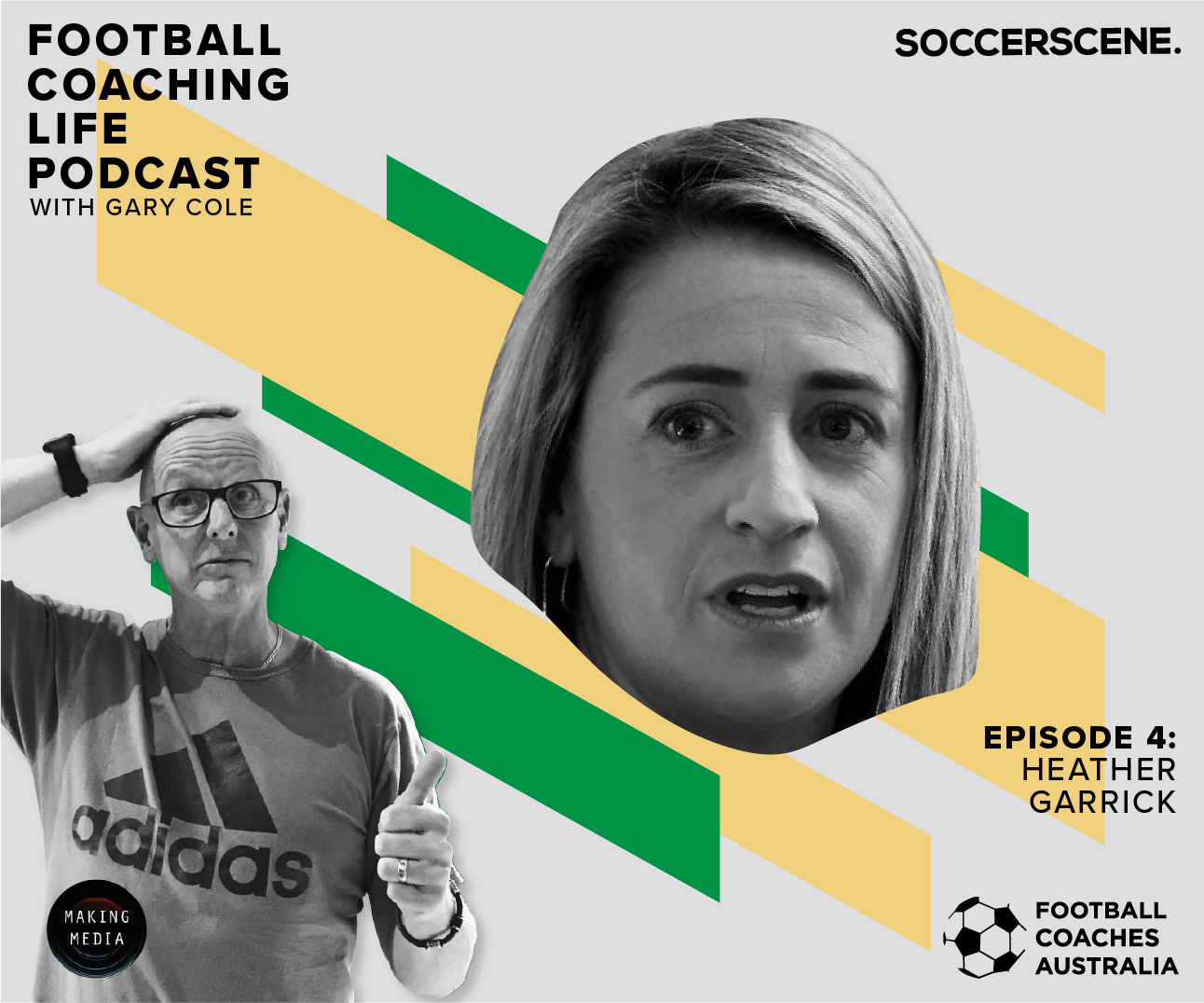 EPISODE 4: HEATHER GARRIOCK
Heather Garriock is perhaps best known for the 130 caps she won representing the Matildas and her expert commentary on Optus Sport.
Her international career spread over 13 years and included 3 FIFA Women's World Cups; 2 Olympic Games and 3 Asian Cups culminating in a win in 2010 in China.
Heather was a tenacious footballer which continued into her coaching career and now into her role as CEO of Taekwondo Australia.
In this frank and fearless conversation with former Socceroo Gary Cole, she explains how coaching and leadership has given her a different perspective on success.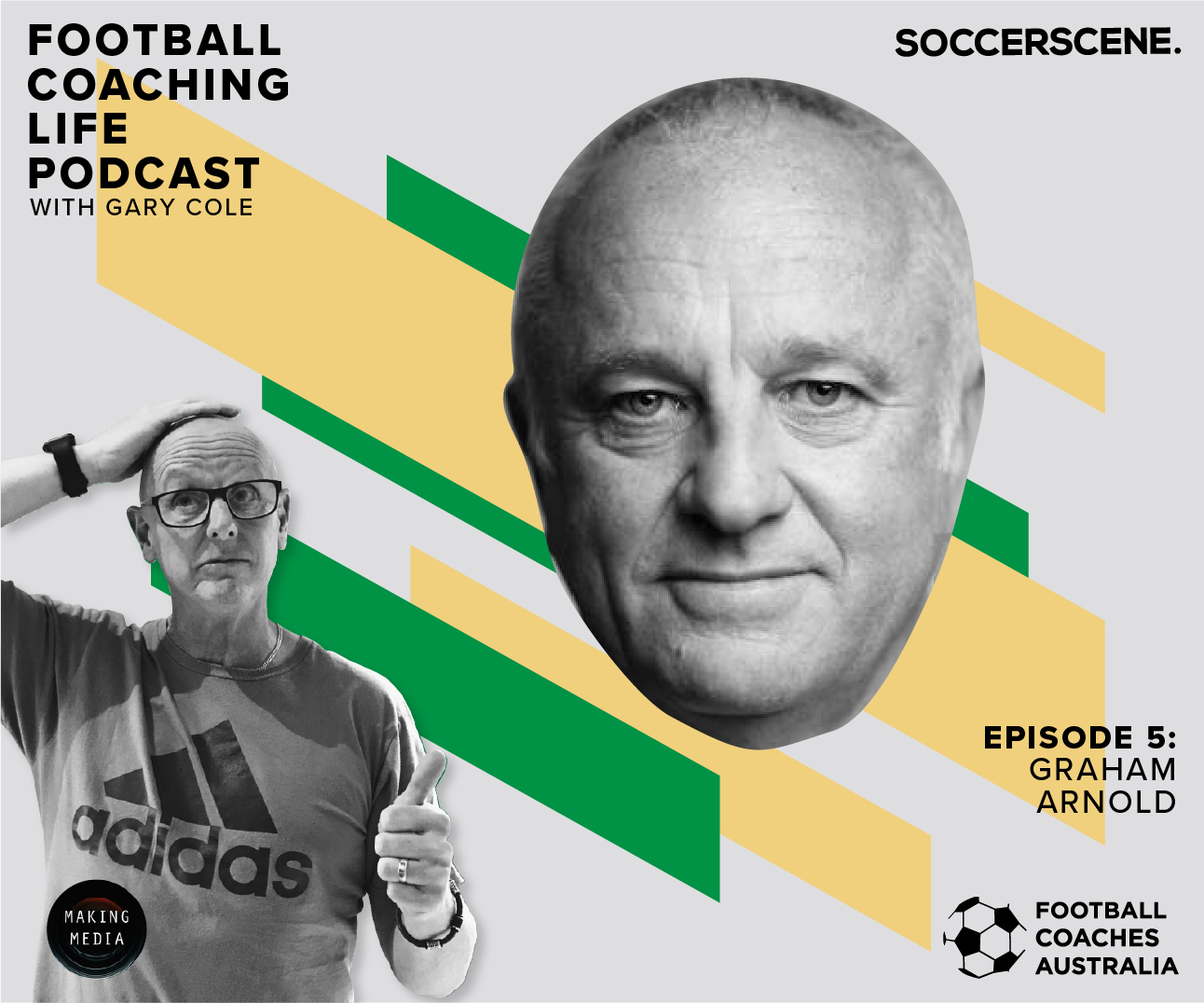 EPISODE 5: GRAHAM ARNOLD
Graham Arnold more often referred to as 'Arnie' in Australian Football circles is our national Coach of both the Socceroos and the Olyroos.
The Socceroos are getting ready to complete their FIFA World Cup group qualifying phase in a centralised venue in Kuwait City and the Olyroos are waiting patiently to see if the Olympics are going ahead.
Graham is one a generation of players that passed through Sydney United 58 and went on to have successful playing and coaching careers. He had a distinguished playing career that started and finished here in Australia and took him to the Netherlands, Belgium and Japan and included 56 games for the Socceroos
He didn't get to play in the World Cup but has now been to two World Cups as Assistant to Gus Hiddink and Pim Verbeek, coached at two Asian Cups and Tokyo will be his second Olympics as Head Coach.
Arnie has had wonderful success in the A-League, winning Premierships and Championships with Central Coast Mariners and Sydney FC, as well as the FFA Cup with Sydney FC.
Listen to this open and honest conversation between Graham and former Socceroo Gary Cole, in which the Socceroos coach talks about his coaching and leadership styles, how they have changed over the course of his journey, and the importance of mentors and developing resilience along the way.
He also discusses how the year of COVID-19 has enabled the development of more Olyroos.
Sit back, relax and enjoy these insights into Graham Arnold's Football Coaching Life.